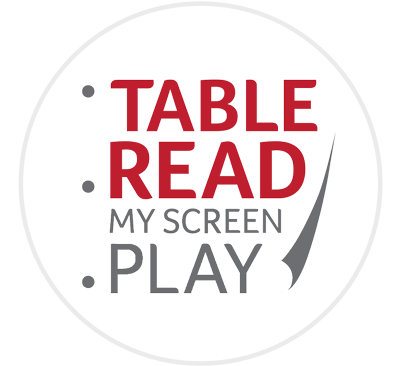 Subscribe
Currently Closed. Subscribe to receive a notification when the next season opens.
Table Read My Screenplay
Table Read My Screenplay - Park City
2020
Win a Live Table Read of your script with professional actors plus have the full festival experience in Park City during the Sundance Film Festival!
Subscribe
Currently Closed. Subscribe to receive a notification when the next season opens.
About
Table Read My Screenplay will help to propel your screenwriting career forward with a transformative Table Read Showcase experience during the 2020 Sundance and Slamdance Film Festivals in Park City, Utah. As the Grand Prize Winner, you'll receive $1500 cash, flight and accommodations in Park City, access to film festival events and parties, a table read of your winning script, and industry connections. An established director will workshop your script prior to your Table Read Showcase with professional actors.
Your Table Read is just the beginning! After the festival, you'll become an elite member of the
ISA Development Slate
where the ISA Development team will work with you for a minimum of 1 year to get you and your script in front of producers, literary representatives and other industry executives from companies like MGM, ICM, Eclectic Pictures, Bohemia Group Originals and many others.
60 screenplays from Slate writers have been optioned or purchased in the past few years.
**Listed in Moviebytes Best Screenplay Contests to Enter in 2019**
TABLE READ WINNER SUCCESS
Table Read Winner Staffed on Gossip Girl Reboot
Congratulations to Elaine Loh! After her win with Table Read My Screenplay last year, she was immediately invited onto the ISA Development Slate. Shortly thereafter, she was named one of the Top 25 Screenwriters to Watch in 2019 by the International Screenwriters Association. We're excited to announce that she has been staffed on the new Gossip Girl reboot for HBO Max, premiering in late 2020.
more success stories
Benefits
FEATURE/PILOT GRAND PRIZE WINNER

$1500 Cash
Flight & Lodging 
A Live Table Read of Your Script
Invitation onto the ISA Development Slate
ISAConnect Membership
4 Days of Sundance Movie Tickets, Parties and Panels
An established director is guaranteed to personally meet with you to workshop your script with professional actors. After the festival, you'll become an elite member of the ISA Development Slate, where the Development Team will work with you for a minimum of 1 year to get you and your script in front of producers, literary representatives and other industry executives from companies like:

MGM
ICM
Eclectic Pictures
Bohemia Group Originals
Many more...


SHORT/WEB SERIES GRAND PRIZE WINNER
$750
CashPodcast of Your Script on the
Curious About Screenwriting
Network
ISA Development Slate
Consideration
ISAConnect
Membership
As the Table Read My Screenplay Short Grand Prize Winner, you will receive a podcast recording of your script by professional actors, to be broadcast on the ISA's Curious About Screenwriting Network (available on iTunes & Stitcher). With over 
4600 Industry Pros
 frequenting the ISA site, plenty of directors and producers will hear your words come to life. If you produce your short script within 18 months of winning, we'll cover your entry fee towards three major short film festivals. 
Both Grand Prize Winners Also Receive:
CAREER COACHING with
Lee Jessup
. Over the past 20+ years, Lee has mentored established and emerging screenwriters in film, television and new media, while also consulting and instructing for major networks and studios.
Character Based Story Structure for Episodics Courses
VARIOUS MEDIA OUTLETS, including Creative Screenwriting, will spotlight your success story to their audiences, including agents, managers and producers.
TOP 10
TOP 100 (Features & Pilots) and TOP 25 (Shorts & Web Series)
The Craft Course Online ($99 Value)

Go beyond the basics of screenwriting, forget all of the fancy vocabulary, and let's get your script finished! Receive immediate access to all lessons, lectures, and audio, and the material provided within this full development screenwriting course will help you build your script, one step at a time. This course allows you to work at your own pace and finish a script in 11 weeks! You can start and finish whenever you like.


Gain access to advanced tools, and showcase your work to industry pros, while building the connections you need to break in. Join the thousands of writers using ISAConnect to elevate their writing, improve their connections and launch a sustaining career. Browse writing gigs, share your loglines, upload your screenplays and connect with over 4600 industry pros.
Announcements
Jan 2nd
Grand Prize Winners
Rules
For FAQs, please visit. www.TableReadMyScreenplay.com
RULES:
This contest is open to anyone except all employees, directors, associates, and immediate families of the TABLE READ MY SCREENPLAY Contest.
We do not discriminate on the basis of race, religion, national origin, color, sex, age, veteran status, or disability. It is our intention that all qualified submissions be given equal opportunity and that selection decisions are based on script-related factors alone.
Promotional discounts offered may only be utilized at the time of submission and no partial refund for a promotional code may be issued after an entry has been officially submitted.
Promotional discounts or waivers offered may not apply on all submission platforms (i.e. ISA, Film Freeway).
Once material has been entered, no substitutions of new drafts or corrections will be considered past 24 hours from original submission time and date. After this time you may fill in an entry form and pay the appropriate entry fee to submit any script revisions or changes as many times as you like up until the deadline. You are free to email info@tablereadmyscreenplay.com with a revised logline or contact details at no additional charge.
Those that receive free feedback are not eligible to receive a free resubmission, which comes as an option with purchased feedback, unless otherwise noted in a promotion.
Eligible resubmissions will be honored in the succeeding contest.
Table Read My Screenplay cannot guarantee feedback will be received within enough time to resubmit within the same contest.
The writer understands that feedback can take up to 90 days turn-around time and may not be received before the end of the contest.
TRMS Feature or Pilot Grand Prize winners from previous seasons may only submit to a contest city outside of the city in which they won and may only submit with a new screenplay. Previous Short Grand Prize winners may enter any contest provided they enter a feature next. If a writer wins the Grand Prize in two cities they are ineligible to submit in any future contest season.
TRMS 2nd-10th Place Finalists may submit again with a completely different screenplay. Those who have placed as a top 10 (2nd-10th place overall) winner three times with three different screenplays in two different cities (3 in each city for a total of 6 placements) are ineligible to submit in any future contest season.
Adaptations from other works are permissible provided you have the writer's written permission to adapt the work.
Adaptations of works in the public domain are permissible, however you are responsible for the legalities of this.
Collaborative work is eligible; the writers are responsible for the distribution of the contest prize(s).
Writers under the age of 18 years old must have parent or legal guardian's permission to participate.
The work or submitted material must not be in a current option agreement, or may not have been previously sold or produced for profit.
Writer understands and accepts without reservation that he/she is an independent contractor and that the contest administrators are not responsible for withholding any taxes or payments on prize money to any government agency, at any level, be it state, local or federal.
Writer understands that it is his/her sole responsibility to register material with the U.S. Copyright Office and/or with the Writers Guild of America West or the appropriate agency in his/her country.
You must retain at least one copy of the submitted material, and you understand that all material we receive cannot and will not be returned under any circumstances.
Recommended length of your work:
Feature – (70 – 120 pages), TV Pilots – (10 – 60 pages), Shorts – (1-40 pages), Web Series – (1-20 pages)
If a screenplay is submitted for feedback and is over 120 pages, an additional fee of $1 per page will apply and the contestant will be contacted and billed separately for the extra, or only the first 120 pages will be read.
All entries must be received by Final Deadline. TRMS reserves the right to extend the contest deadline up to 90 days.
TRMS is not responsible for late, lost, unacceptably formatted, corrupt, or incorrect submissions.
Contestants may submit their screenplay to any other person, contest, producer, agent, publisher, and/or organization.
Contestants retain all rights to their screenplay, subject to the terms and agreements contained herein.
TRMS will only accept your submission if you assure us that to the best of your knowledge you are the sole originator of the idea and that you have the legal right to submit it for judging to TRMS.
You understand that your logline and / or screenplay will be reviewed by our employees and/or our panel of Industry Judges for evaluation. You also understand that any one of these employees or judges may have been or may be exploring ideas similar to yours and you hereby waive any claim that TRMS, its employees or judges may have misappropriated any ideas or portions of your submission logline or script.
No agreement for compensation, other than the TRMS prizes listed, has been implied.
If you win an ISAConnect membership, the membership will auto-renew after your free term if you do not cancel it and you will be billed the regular monthly fee.
TRMS intends to submit the Semi-Finalists to respected producers with your permission, which will be granted upon clicking the 'I have Read and Understand the Contest Rules' button. You can withdraw from this process at any time.
When your screenplay, application, and payment have all been received, you will be notified by email only. Please provide an appropriate email address. If your email address changes, it is your responsibility to let us know.
By entering this contest and in the event you / your screenplay is declared a Semi-Finalist, you understand and accept that TRMS will be free to use your name and likeness for advertising or promotional purposes without additional consideration.
If you are a GRAND PRIZE Winner, 2nd or 3rd Place overall winner (if applicable), you agree to give TRMS permission to post your video or audio Table Read on its web site.
All contest participants understand and agree with the following:
TRMS reserves the right to award a cash prize, at its discretion. A Grand Prize Winner is under no obligation to accept the associated prizes but will not be awarded or owed a cash replacement upon electing not to move forward with prizes offered. This includes local winners.
International flight not to exceed $1000. Domestic flight not to exceed $600. There is no cash reimbursement for flights that cost more than the limit nor will there be a disbursement of the difference for flights that are less than the $1500 / $800 limit.
TRMS may develop a series or documentary style program based on the inner workings of the contest and the production resulting there from. TRMS reserves the right to contact contestants with offers to participate in any such production. Contestants are under no obligation to participate therein.
Contest applicants must accept without reservation the decisions rendered by the judges.
There are no refunds for submissions at any time for any reason.
TRMS has the right to change or add to the prizes at any time, without notice, and/or substitute prizes of equal or lesser value.
TRMS is not affiliated directly with the Sundance Film Festival. Winner passes and access to the festival does not imply an association or additional access.