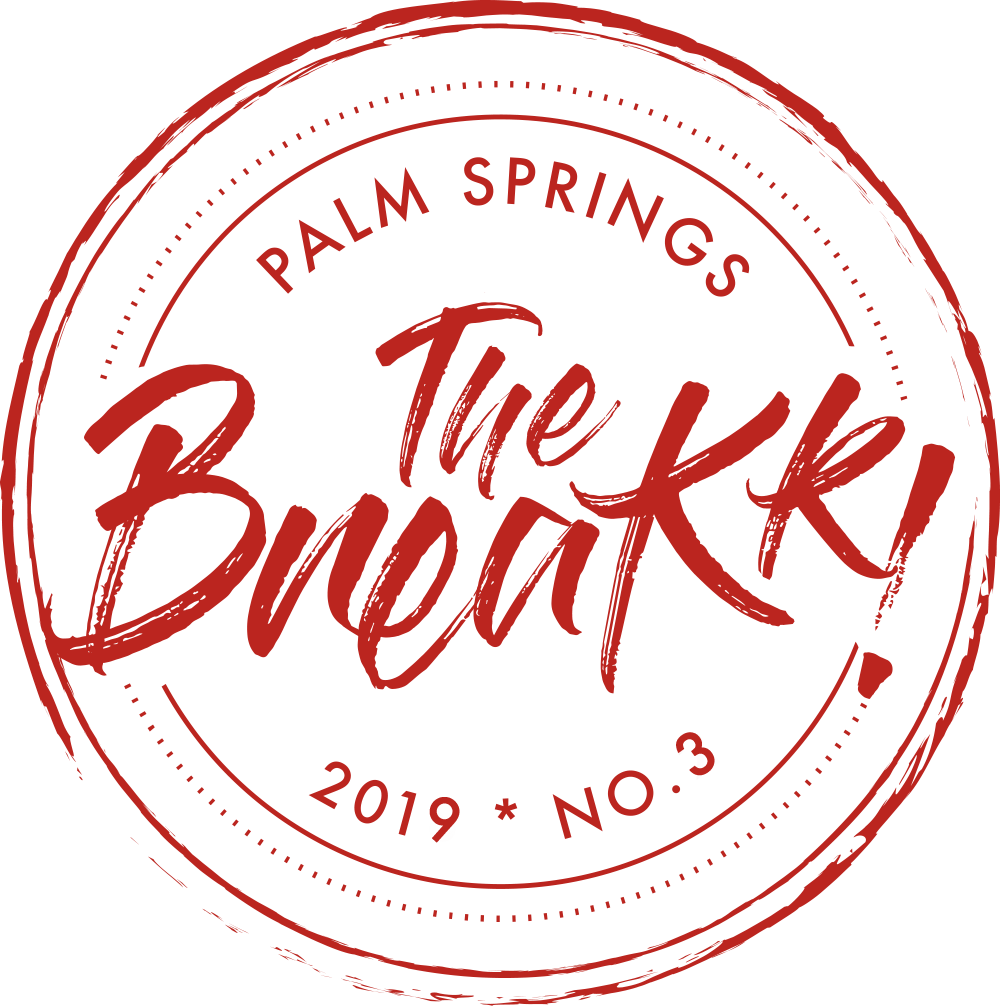 Subscribe
Currently Closed. Subscribe to receive a notification when the next season opens.
The Breakk
The Breakk Screenwriting Competition
2019
Subscribe
Currently Closed. Subscribe to receive a notification when the next season opens.
About
The Breakk is a 3-day creative retreat that brings emerging female television writers together with top execs and working industry professionals.  The idea is to relax together, eat together, drink together; all while connecting, collaborating, brainstorming and bonding - together!  This intimate environment has a laid back anti-conference feel - creating space for ideas to emerge and beautiful connections to flourish.  Whether you're a writer trying to break in, break story, in the middle of an act break, or simply just need a break - The Breakk is for you!
Benefits
The winner will receive:
A pass to The Breakk and a 2-night hotel stay at the Ace Hotel in Palm Springs, CA including:
Creative Breakkout sessions w/working TV professionals
Breakk Away session with Karen Kirkland - Agent, Abrams Artists Agency
1-on-1 notes session w/ Karen Kirkland to discuss your TV script
Plus, The top finalists will be read by the VIP jury which includes:
Karen Horne, NBC Entertainment
Karen Horne is Senior Vice President, Programming Talent Development and Inclusion for NBC Entertainment and Universal Television Studios.  She is responsible for overseeing in-front-of and behind the camera primetime diversity efforts for NBC and Universal Television.  NBC's new Female Forward initiative for female directors, the Writers on the Verge Program, the Emerging Director Program, StandUp NBC, NBC's Late Night Writers Workshop and the NBC/Universal Short Film Festival are among the many programs she heads while overseeing NBC's Diversity staffing initiative and working to identify diverse development.
Prior to Universal, Karen served as Director, Creative Affairs, at IDT Animation in Burbank.  She designed, implemented and oversaw Nickelodeon's Writer Fellowship Program.  Horne also was Director of Writer Development & Special Projects for the Walk Disney Studios Fellowship Program at Walt Disney Network Television.  Previously, she served as Director, West Coast for the Black Filmmaker Foundation in Los Angeles.
Liz Kelly, 21st Century Fox
Liz Kelly is Associate Director of Production and Development Labs – Film & TV for 21st Century Fox Global Inclusion.  In this role, she manages Fox's pipeline programs for diverse and emerging writers and directors, tracks and maintains network diversity statistics regarding on-air and behind-the-camera creative talent, works with the studio and the network to staff writers and directors on FOX's scripted television shows, manages the department's partnerships and sponsorships with non-profits and film and TV festivals, and plans and executes various internal panels, events, and programs for FOX executives and colleagues related to diversifying the entertainment industry. Kelly has been instrumental in staffing diverse television writers on the FBC shows THE GIFTED, LETHAL WEAPON, THE RESIDENT, PROVEN INNOCENT, THE COOL KIDS, LUCIFER, LAST MAN ON EARTH, and THE EXORCIST, and has worked with the studio and the network to set up shadowing opportunities for diverse directors on the FBC shows THE GIFTED, GOTHAM, THE RESIDENT, THE PASSAGE, SNOWFALL, LEGION, and QUEEN OF THE SOUTH. Kelly currently manages the Fox Writers Lab, Fox Directors Lab, and the inaugural Fox DP Lab. She was also instrumental in creating and implementing the Fox Filmmakers Lab for female feature film directors.  
Liz has been a judge, script reader, or panelist for numerous film and TV festivals across the country, including the Tribeca Film Festival, New York Television Festival, ATX Television Festival, Nantucket Film Festival, Series Fest, Austin Film Festival, CAAMFest, San Diego Latino Film Festival, NALIP Media Summit, LA Skins Fest's Native American Writers Pitch Fest, Outfest, and Humanitas New Voices. In 2017, she was invited to be part of Creative Artists Agency's "Amplify: Next Gen" group of up-and-coming entertainment artists, agents, and executives. 
Kelly has worked at FOX since May 2013 and is a member of the Hollywood Radio & Television Society. Kelly has a BA from UCLA and is a graduate of UCLA School of Theater Film & Television's graduate-level Professional Program in Screenwriting.
Hannah Mattison, Development Executive
Hannah is an executive on the scripted series team at AwesomenessTV, producing content for GenZ. Since her start at Awesomeness, Hannah has risen through the ranks on their development team, covering a diverse list of series, from game shows to glossy teen thrillers. She oversees projects for Hulu and Netflix, taking them from development through staffing, production, and post. Hannah produced an episode of the WGA Award nominated anthology series LOVE DAILY, and was an associate producer on Hulu's PEN15.
Karen Kirkland, Abrams Artists Agency
Karen Kirkland, Literary Agent at Abrams Artists Agency, and an industry veteran, who over the past 27 years has been involved in various aspects of the film and television industry; stemming from an independent producing background, compiling over 50 commercial and music videos to her credit.  She has been nominated for multiple MTV Music Video Awards, won an NAACP Image Award for Video of the Year, and served as the producer of the LA Film Festival, a preeminent cinematic event, showcasing compelling independent films, TV and episodic work from emerging storytellers, alongside filmmaker-driven studio titles.
Formerly, as Nickelodeon's Vice President, Talent Development and Outreach, Karen spent 13+ years identifying, developing and staffing writing talent onto Nickelodeon network productions. Under her leadership, Nickelodeon's Writing Program expanded worldwide and blossomed into one of the most competitive and well-respected vehicles for emerging television writers. 
As one of the industry's leading creative strategists for writers, Karen has helped to launch the careers of many successful creative visionaries including those who are currently at EP, Producer and Story Editor level at Nickelodeon, HBO, Comedy Central, ABC, Adult Swim, The CW, FOX, Amazon, Hulu and NBC/Universal.
Karen is an international speaker, having led writing workshops around the world.  She has been a judge for numerous screenwriting award competitions including the BANFF World Media Festival, the UCLA Screenwriter's Showcase and the Austin Film Festival Screenplay Competition.   
In 2017, Karen founded The Breakk; a 3-day creative retreat for emerging female television writers from around the world.
Karen loves to connect with writers, so feel free to follow her on Twitter: @karenkirkland or on Instagram: @karen_kirkland