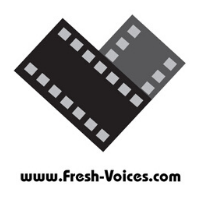 Subscribe
Currently Closed. Subscribe to receive a notification when the next season opens.
Fresh Voices
Fresh Voices
2020-2021
Seeking the best unproduced screenplays from around the world, Fresh Voices is now accepting entries for our 11th Annual Screenplay Competition!
Subscribe
Currently Closed. Subscribe to receive a notification when the next season opens.
About
Since 2009, Fresh Voices has been proud to provide a microphone to exciting new voices that deserve to be heard and memorable stories that must be told.
Celebrating our 11th Annual Screenplay Competition in 2020, we are grateful to have had the opportunity to help guide dozens of talented writers to secure literary representation, option agreements and other writing assignments, providing the stepping stones and advancing the careers of many of our winning writers.
Through our generous industry sponsors, Fresh Voices is pleased to offer over $20,000 in cash & prize packages including script development, career consultation, plus memberships and subscriptions to services, all designed to support your career and maximize the exposure of your big win.
Executives, managers and producers actively seeking new writers and projects are lined up to read this year's winners. Will you be our next success story?
Benefits
$20,000 Cash & Prizes
Career Consultation & Script Development
Guaranteed Reads & Industry Consideration
Fresh Voices has a proven track record of discovering and advancing the careers of new screenwriters. Since 2009, Fresh Voices has risen to become one of Hollywood's most highly anticipated annual screenplay competitions.  Executives, producers, and managers actively seeking their next project are lined up to read this year's winners!! Will you be our next success story? Enter now and let your voice be heard!
Announcements
Jan 25th
Quarterfinalists
Rules
Rules & Eligibility
Screenplays should be submitted with a title page. Name and other personal information are optional.

The title of the PDF document must be saved in the format (Screenplay Title by Author First and Last Name) For Example - A Beautiful Mind by Akiva Goldsman).

Entries must be received on or before the deadline and payment made in full at time of the submission.

All submitted material must be original, and all rights must be owned by the entrant at the time of submitting.

Adaptations are only eligible if the underlying rights are owned by the entrant, or the work is in the public domain.

Submissions are accepted via electronic submission only.
Scripts must be  submitted as a PDF document.

All unproduced screenplays written in English are eligible.

Each applicant will receive an e-mail notifying them of the competition results.

Substitutions of corrected pages or new drafts of the entered material are not allowed unless formally resubmitted.

Material written by a writing team must be submitted by one writer with consent of the others.

If a writing team is chosen as a winner, prizes will be distributed to the person who entered the project. Each team is responsible for dividing or sharing the prize package.
All ages from anywhere in the world are eligible.

All material submitted to other competitions or contests are eligible.

There are no requirements as to when the material was written.

The material submitted must not be professionally published or produced prior to entering the competition.

Any submitted work that is published or produced between the time of submission and the end of the judging period will no longer be eligible.

Previous Grand Prize Winners and employees of Fresh Voices, past or present, are not eligible.