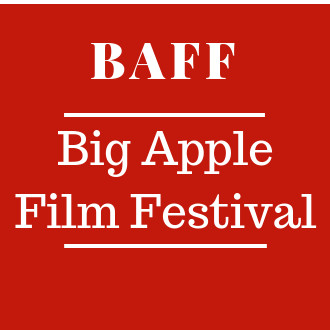 View Latest Season
Big Apple Film Festival
Big Apple Film Festival Screenplay Competition
Winter 2020
All entrants receive complimentary admission to the Big Apple Film Festival Networking Conferences
View Latest Season
About
 All entrants receive complimentary admission to our networking conferences.
Big Apple Film Festival takes place in the heart of the greatest city in the world. BAFF, named one of MovieMaker Magazine's top "25 Film Festivals Worth The Entry Fee," top "25 Coolest Film Festivals", CBS New York's " Best Film Festivals in New York..." and Film Freeway's "Top 100 Best Reviewed Film Festivals", is dedicated to showcasing, highlighting, and promoting the highest quality films and writers from the New York City independent film community, as well as additional specially selected films from across the country and around the world. Our goal is to celebrate the great city of New York through the exhibition of innovative and purposeful filmmaking.
The festival offers a variety of film screenings and special New York City film premieres, a film and screenwriting conference, and a screenplay competition with live script readings of screenplay competition winner scripts.
ALUMNI FILMS include filmmakers and cast that are Academy Award and Golden Globe nominees, SAG Award winners and nominees, as well as films released by HBO, Showtime, IFC, Netflix, Amazon, Itunes and more...
PREVIOUS HONORARY GUESTS AND AWARD RECIPIENTS INCLUDE: 

Jesse Eisenberg(Academy Award, Golden Globe and SAG Award nominee) 
Cuba Gooding Jr.(Academy Award winner) 
Morgan Spurlock(Academy Award nominee, WGA Award winner) 
Alan Cumming(Tony Award and Independent Spirit Award winner) 
Jackie Martling (The Howard Stern Show) 
Jerry Stiller, Karen Allen, Olympia Dukakis(Academy Award and Golden Globe Award winner) 
Kevin Corrigan 
Katherine Waterston 
Ernie Hudson 
Mario Cantone 
Zoe Lister Jones 
Roger Sherman(Academy Award nominee and Emmy Award winner) 
Haley Joel Osment(Academy Award nominee), and more...
ABOUT OUR FILM AND SCREENWRITING CONFERENCE:

All submitters to the festival, whether their project is selected or not selected, will receive COMPLIMENTARY admission to the Big Apple Film Festival Networking Conferences, taking place in conjunction with the Big Apple Film Festival (Winter Edition), February 10-13, 2020.
The purpose of the conference is to provide an opportunity for filmmakers and screenwriters to receive valuable information from industry professionals through a series of panel discussions, as well as an opportunity for attendees to participate in Q and A's, networking sessions and nightly receptions.
Confirmed Speakers Include:
AMIR ARISON - Amir Arison is an American film, television, and theatre actor, best known for his role as FBI Special Agent Aram Mojtabai in NBC's The Blacklist. He had a recurring role in Law & Order: Special Victims Unit as Dr. Manning and made special guest appearances in series like Fringe, NCIS, Medium, and State of Georgia. He has made special guest appearances on Homeland and America Horror Story. After several more guest appearances on Gossip Girl, True Justice, and The Mentalist, he was cast in Bryan Singer's digital series H+ as Dr. Gurveer. In late 2012, he signed on for a recurring role on ABC's Zero Hour. Arison made his big-screen debut in Day Zero(Elijah Wood, Chris Klein, Elisabeth Moss) and he was cast in the American comedy horror film Vamps(Alicia Silverstone, Krysten Ritter, Sigourney Weaver)
MARCIA MAYER - Producer and sales executive, Independent Spirit Award nominee and winner of the Los Angeles Film Festival Alfred P. Sloan Fast Track Grant. Producing credits include Song of Back and Neck starring Paul Lieberstein, Paul Feig, Rosemarie DeWitt (Tribeca Film Festival), Dirty Hands(Independent Spirit Award nominee, Tribeca Film Festival), Inez & Doug & Kira (Big Apple Film Festival NYC premiere). Sales credits include: Cheerful Weather for the Wedding  starring Felicity Jones and Elizabeth McGovern, The Art of Getting By starring Freddie Highmore, Emma Roberts, Sasha Spielberg(Sundance Film Festival), Restrepo(Academy Award nominee Best Feature Documentary), In Her Skin starring Guy Pearce.
RENNIK SOHOLT - Emmy nominated producer and director, produced and directed multiple episodes of the Emmy Award winning travel series, Anthony Bourdain: No Reservations, as well as the award-winning PBS documentary series, Weekends with Yankee Magazine. He also has directed and produced successful reality television shows, including House Hunters International and Pawn Stars. He executive produced and directed the feature documentary, Forced Change(Big Apple Film Festival Best Feature Documentary) , which was showcased on WNET/PBS as well as the CNN documentary, Wine to Water. He is the recipient of the James Beard Award for the PBS series, Gourmet's Diary of a Foodie, for which he also received an Emmy nomination.

MICHELLE DANNER - Michelle Danner is an international film director & acting coach. Her student list include James Franco, Seth MacFarlane, Salma Hayek, Henry Cavill, Zooey Deschanel, Gerard Butler, Chris Rock, Chris Martin, Penelope Cruz, Michael Pena, Michelle Rodriguez,  Kate Del Castillo and many others. Danner's film directing debut, How to Go Out on a Date in Queens starring Jason Alexander and Alison Eastwood, won the LA Film Awards' Best Acting and Best Movie awards. She was the acting coach expert on comedy on the WB show "The Starlet", and has been featured on The Tonight Show with Conan O'Brien.
DAVID PATERSON - David Paterson is the writer and producer of Disney's BRIDGE TO TERABITHIA and THE GREAT GILLY HOPKINS, starring Glenn Close, Kathy Bates, Octavia Spencer, Julia Stiles and Sophie Nelisse. His debut feature film LOVE LUDLOW was an official selection of the Sundance Film Festival and released by Starz Network and Warner Home Video.

JILL GOLDSTEIN - Jill is the founder of JGoldsteinPR, a boutique public relations and social media firm that handles a diverse range of clients. Currently, the firm handles consumer and trade publicity, social media campaigns as well as special events for their clients. Clients that Jill has served over the last 20 years include DreamWorks Home Entertainment, Warner Strategic Marketing, Buena Vista Home Entertainment, Palm Pictures, PBS Distribution, Eagle Rock Entertainment, Air Bud Entertainment, FilmRise, Clear Channel Entertainment Television and many more. Jill recently represented "Inside the Rain", written and directed by Aaron Fisher(Best Feature Film Big Apple Film Festival), starring Aaron Fisher, Ellen Toland, Rosie Perez and Eric Roberts.

​
BARRY HEYMAN - Barry J. Heyman, Esq. is the founding and principal attorney of Heyman Law,  a boutique law firm established in 2004 with practice areas focusing on business, entertainment, fashion, intellectual property and new media. Heyman Law clients include creative talent, businesses, and entrepreneurs. The firm provides legal counsel to creators ensuring they understand the legal and business matters in order to protect their creative endeavors.
MORE SPEAKERS TO BE ANNOUNCED ...
​
Past speakers include: representatives from HBO, Academy Award winning Killer Films, Film Rise(distributor of numerous Oscar Award winning and Emmy Award winning films), Emmy Award winning Gigantic Productions, Cinepointe Advisors(legal counsel on numerous Oscar nominated films), StoneStreet Studios, Endeavor Content, Academy Award nominated and Emmy Award winning filmmaker, Emmy Award winning screenwriter, Sundance, Tribeca, SXSW alumni and more…

Benefits
Winners in each of the Screenplay Competition categories will: 
Be announced and promoted through VARIETY, one of the industries leading trade publications, subscribed to by leading producers, production companies and studios, including Universal, Fox, Warner Brothers and more.
Screenplay competition winners will receive the opportunity to pitch their script to production companies, agents and other industry representatives through Virtual PitchFest, including NBC Universal, Warner Bros., UTA, The Gersh Agency, and many more.
Feature length screenplay winners will also receive an InkTip Script Listing to promote themselves and their scripts to InkTip's entire network of producers, managers, and agents. 
Companies who are InkTip members include: ABC, Anonymous Content, APA, CBS Films, HBO Films, and many more.
Announcements
Feb 3rd
Official Selections
Rules
1. Big Apple Film Festival Screenplay Competition accepts Feature Length Screenplays, Short Scripts and TV/Web Series Pilot Scripts in the following categories: Drama, Comedy, Action/Adventure, Women Screenwriters, Science Fiction, LGBTQ, Historical, Horror/Thriller.
2. Feature length scripts must be a minimum of 60 pages and no longer than 150 pages. Short script submissions and TV/web series pilot scripts must under 60 pages.
3. Submitted screenplays can not have been optioned, purchased, or otherwise produced at the time of submission.

4. Writers can submit as many screenplays as they'd like to the competition, however each script requires a separate application and payment.

5. All entries must be submitted in English.

6. Submissions must include the title, author(s) and any relevant registration or copyright information.

7. Screenplays must be submitted in PDF or MS WORD.

8. All screenplays are considered complete once they are received by the Big Apple Film Festival. No revisions or updated copies will be accepted.

9. Submission fees are non-refundable.