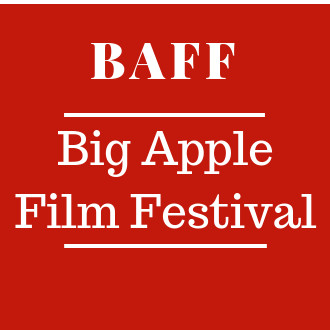 View Latest Season
Big Apple Film Festival
Big Apple Film Festival Screenplay Competition
Summer 2020
All entrants receive complimentary admission to the Big Apple Film Festival Networking Conferences
View Latest Season
About
 All entrants receive complimentary admission to the Big Apple Film Festival Networking  Conferences
Big Apple Film Festival Screenplay Competition seeks to discover and support the most original and innovative screenplays from emerging and established screenwriters from around the world.

Credits of our screenplay competition readers/judges include:
-script reader previously for Warner Brothers, assisted in creative development at New Line Cinemas and NBCUniversal, consulted writers who have placed as Academy Nicholl Fellowship semifinalists
-writer/producer who has had films released by Disney, Starz Network and Warner Home Video
-writer for ABC, who has previously written and developed projects for Spike TV and The
Weinstein Company
-writer/director who has had films released by Warner Brothers, Paramount and HBO
--Former producer for MTV, Showtime, Paramount, Viacom, Disney and reader previously for Fox Studios (Australia), and screenplay competitions including PAGE, Final Draft's Big Break, Screencraft, Nantucket.

-script reader previously for Tri-Coast Worldwide and Rocksalt Releasing
-Tribeca Film Festival award winner
-Script reader previously for Pantheon Entertainment
-and more...
PREVIOUS SCREENPLAY COMPETITION WINNERS AND FINALISTS INCLUDE: Shia LaBeouf (SAG Award, People's Choice Award and Independent Spirit Award nominee), Daniel Talbott (writer ABC's "The Conners", "The Mist"  produced by The Weinstein Company and Spike TV), Michael Vaynberg (writer/director Cannes Film Festival selection "9.8 m/s²"), Shruti Tewari (member of the Sundance Collab Directing Program), Bill Brock (Semi-Finalist - Stage 32 Feature Screenwriting Contest), Ken Krauss (writer "Tom, Dick, & Harriet" - Hallmark Channel), Kevin Emerson (author of over twenty novels published by HarperCollins, Random House, Scholastic), Linda Shayne (writer/director "Undercover Kid" released by WARNER BROTHERS, HBO Family, "Little Ghost," distributed by PARAMOUNT video airing on HBO), Chris Phillips (Finalist - Sundance Institute Development Track, Award for Overall Excellence in Playwriting-New York International Fringe Festival), Maia Henkin (Second Round Austin Film Festival Screenplay Competition, repped by Abrams Artists Agency), and many more...
Big Apple Film Festival takes place in the heart of the greatest city in the world. BAFF, named one of MovieMaker Magazine's top "25 Film Festivals Worth The Entry Fee," top "25 Coolest Film Festivals", CBS New York's " Best Film Festivals in New York..." and Film Freeway's "Top 100 Best Reviewed Film Festivals", is dedicated to showcasing, highlighting, and promoting the highest quality films and writers from the New York City independent film community, as well as additional specially selected films from across the country and around the world. Our goal is to celebrate the great city of New York through the exhibition of innovative and purposeful filmmaking.
The festival offers a variety of film screenings and special New York City film premieres, networking conferences, and screenwriting competition. 
ALUMNI FILMS include filmmakers and cast that are Academy Award and Golden Globe nominees, Independent Spirit Award nominees, Writers Guild of America and Producers Guild of America nominees, SAG Award winners and nominees, as well as films released theatrically and by distributors such as HBO, Showtime, IFC, Netflix, Amazon, iTunes and more..

PREVIOUS HONORARY GUESTS AND AWARD RECIPIENTS INCLUDE: 

Jesse Eisenberg(Academy Award, Golden Globe and SAG Award nominee) 
Cuba Gooding Jr.(Academy Award winner) 
Morgan Spurlock(Academy Award nominee, WGA Award winner) 
Alan Cumming(Tony Award and Independent Spirit Award winner) 
Jackie Martling (The Howard Stern Show) 
Jerry Stiller, Karen Allen, Olympia Dukakis(Academy Award and Golden Globe Award winner) 
Kevin Corrigan 
Katherine Waterston 
Ernie Hudson 
Mario Cantone 
Zoe Lister Jones 
Roger Sherman(Academy Award nominee and Emmy Award winner) 
Haley Joel Osment(Academy Award nominee), and more...
ABOUT OUR FILM AND SCREENWRITING CONFERENCE:

All submitters to the festival, whether their project is selected or not selected, will receive COMPLIMENTARY admission to the Big Apple Film Festival Networking Conferences, taking place in conjunction with the Big Apple Film Festival (summer edition), August 18-20, 2020 at the Cinepolis Theater, NYC.
The purpose of the conference is to provide an opportunity for filmmakers and screenwriters to receive valuable information from industry professionals through a series of panel discussions, as well as an opportunity for attendees to participate in Q and A's, networking sessions and nightly receptions.
SPEAKERS TO BE ANNOUNCED IN EARLY AUGUST...
Past speakers include: 
representatives from HBO, NBCUniversal, Academy Award winning Killer Films, Film Rise(distributor of numerous Oscar Award winning and Emmy Award winning films), Emmy Award winning Gigantic Productions, Cinepointe Advisors(legal counsel on numerous Oscar nominated films), StoneStreet Studios, Endeavor Content, Academy Award nominated and Emmy Award and Grammy Award winning filmmakers, Emmy Award winning screenwriter, Sundance, Tribeca, SXSW alumni and more…
Benefits
Winners in each of the Screenplay Competition categories will: 
 In partnership with WeScreenplay, winning scripts will be reviewed by readers who have read for agencies, studios, management companies, and/or production companies. 

Each review will include

: 4 pages of detailed notes, Character, Plot, Structure, Dialogue, and Concept Analysis, A Pass, Consider, or Recommend rating, An overall impression that will highlight extra factors like voice, Qualitative scores to help compare your progress, Your analyst's bio. WeScreenplay has been featured in 

Entertainment Weekly, IMDb, TheWrap, and IndieWire.

Screenplay competition winners will receive the opportunity to pitch their script to 5 production companies, agents and other industry representatives through Virtual PitchFest, including NBC Universal, Warner Bros., United Talent Agency, FOX, The Gersh Agency, and many more.
Feature length screenplay winners will also receive an InkTip Script Listing to promote themselves and their scripts to InkTip's entire network of producers, managers, and agents. 
Companies who are InkTip members include: ABC, Anonymous Content, APA, CBS Films, HBO Films, and many more
Screenplay Competition winners will receive an all access badge to Big Apple Film Festival events, including screenings, networking conferences and receptions.
Rules
1. Big Apple Film Festival Screenplay Competition accepts Feature Length Screenplays, Short Scripts and TV/Web Series Pilot Scripts in the following categories: Drama, Comedy, Action/Adventure, Women Screenwriters, Science Fiction, LGBTQ, Historical, Horror/Thriller. 
2. Feature length scripts must be a minimum of 60 pages and no longer than 150 pages. Short script submissions and TV/web series pilot scripts must under 60 pages.
3. Submitted screenplays can not have been optioned, purchased, or otherwise produced at the time of submission.

4. Writers can submit as many screenplays as they'd like to the competition, however each script requires a separate application and payment.

5. All entries must be submitted in English.

6. Submissions must include the title, author(s) and any relevant registration or copyright information.

7. Screenplays must be submitted in PDF or MS WORD.

8. All screenplays are considered complete once they are received by the Big Apple Film Festival. No revisions or updated copies will be accepted.

9. Submission fees are non-refundable.