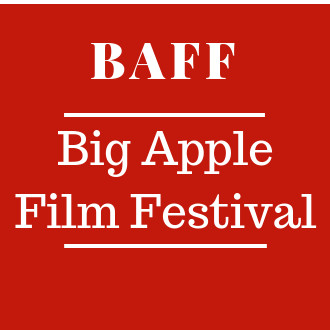 View Latest Season
Big Apple Film Festival
Big Apple Film Festival Screenplay Competition
Spring 2019
All entrants receive complimentary admission to the Big Apple Film Festival Networking Conferences
View Latest Season
About
All entrants receive complimentary admission to  the Big Apple Film and Screenwriting Conference
Big Apple Film Festival takes place in the heart of the greatest city in the world. BAFF, named one of MovieMaker Magazine's top "25 Film Festivals Worth The Entry Fee," top "25 Coolest Film Festivals", and CBS New York's "5 Best Events in New York" is dedicated to showcasing, highlighting, and promoting the highest quality films and writers from the New York City independent film community, as well as additional specially selected films from across the country and around the world. Our goal is to celebrate the great city of New York through the exhibition of innovative and purposeful filmmaking.
The festival offers a variety of film screenings and special New York City film premieres, a film and screenwriting conference, and a screenplay competition with live script readings of screenplay competition winner scripts.
ALUMNI FILMS include filmmakers and cast that are Academy Award and Golden Globe nominees, SAG Award winners and nominees, as well as films released by HBO, Showtime, IFC, Netflix, Amazon, Itunes and more...
PREVIOUS HONORARY GUESTS AND AWARD RECIPIENTS INCLUDE: 
Jesse Eisenberg(Academy Award, Golden Globe and SAG Award nominee) 
Cuba Gooding Jr.(Academy Award winner) 
Morgan Spurlock(Academy Award nominee, WGA Award winner) 
Alan Cumming(Tony Award and Independent Spirit Award winner) 
Jackie Martling (The Howard Stern Show) 
Jerry Stiller, Karen Allen, Olympia Dukakis(Academy Award and Golden Globe Award winner) 
Kevin Corrigan 
Katherine Waterston 
Ernie Hudson 
Mario Cantone 
Zoe Lister Jones 
Roger Sherman(Academy Award nominee and Emmy Award winner) 
Haley Joel Osment(Academy Award nominee), and more...
ABOUT OUR SCREENPLAY COMPETITION AND LIVE SCRIPT READING:
Winners in each of the Screenplay Competition categories will be announced and promoted through the Producers Guild of America's industry trade publication "Produced By," which is received by over 8,000 accredited producers who are members of the Producers Guild. 
Members of the Producers Guild of America include the industry's top filmmakers/producers who have had their feature films theatrically released within the US in major cities, and/or also have had distribution via VOD platform carried by major cable/satellite television providers, such as Time Warner, and/or have streamed online through major digital portals such as Netflix, Amazon Prime, etc.
ABOUT OUR FILM AND SCREENWRITING CONFERENCE:

All submitters to the festival, whether their project is selected or not selected, will receive COMPLIMENTARY admission to the conferences.
The purpose of the conference is to provide an opportunity for filmmakers and screenwriters to receive valuable information from industry professionals through a series of panel discussions, as well as an opportunity for attendees to participate in Q and A's, networking sessions and nightly receptions.
Confirmed speakers include: 
Debra Eisenstadt( writer/director "Imaginary Order", Sundance 2019, "Daydream Believer", Independent Spirit Award winner, etc.)

Jeremy Levine(Emmy winner "Good Fortune", "For Akheem", Berlin Film Festival, AFI Docs)
Adrienne Stern(casting director, credits include "Broken English" directed by Zoe Cassavetes, starring Parker Posey and Drea de Matteo, "Adrift in Manhattan" starring Heather Graham, Victor Rasuk, William Baldwin, "The Immaculate Conception of Little Dizzle" starring Natasha Lyonne, "The Believer" starring Ryan Gosling, "Thirteen Conversations About One Thing" starring Matthew McConaughey and John Turturro. Television credits include the New York casting for That 70's Show, where she was responsible for casting Ashton Kutcher, and most recently Welcome to Greenpoint for FX. Producing credits include "This Revolution" starring Rosario Dawson and "Twist" starring Nick Stahl.
Sam de Jong(writer/director "Goldie" starring Slick Woods, Berlin Film Festival Crystal Bear nominee, Tribeca Film Festival, "Magnesium" Sundance Film Festival, AFI Fest Grand Jury nominee)
Daniel Schechter(writer/director "Life of Crime" starring Jennifer Aniston, "Safe Spaces" starring Justin Long and Fran Drescher)
RJ Millard(Obscured Pictures, formerly VP Publicity Focus Features, SVP Marketing and Publicity at Samuel Goldwyn Films/Roadside Attractions/IDP Distribution)​
Celine Held and Logan George( Filmmaker Magazine's 25 New Faces of Independent Film, short films have premiered in official competition at Festival de Cannes, Sundance Film Festival, Telluride Film Festival, and SXSW, and shortlisted for Best Live Action Short Film at the 91st Academy Awards)
Eitan Gorlin (Grand Jury Prize winner Slamdance Film Festival, Independent Spirit Award nominee)
Claude Kerven (Filmmaking Chairperson at the New York Film Academy and writer/director of "They Never Found Her" starring Elizabeth Moss, as well as numerous Saturday Night Live episodes and writer of Mortal Thoughts starring Bruce Willis, Demi Moore and Harvey Keitel)
Celeste Erlander(VICE Media, Amazon Studios, "The Marvelous Mrs. Maisel", "Modern Love")
Past speakers include representatives from HBO, Academy Award winning Killer Films, Emmy Award winning Gigantic Productions, StoneStreet Studios, Endeavor Content, Academy Award nominated and Emmy Award winning filmmaker, Emmy Award winning screenwriter, Sundance, Tribeca, SXSW alumni and more…

Benefits
Winners in each of the Screenplay Competition categories will: 
Be announced and promoted through VARIETY, one of the industries leading trade publications, subscribed to by leading producers, production companies and studios, including Universal, Fox, Warner Brothers and more.
Screenplay competition winners will receive the opportunity to pitch their script to production companies, agents and other industry representatives through Virtual PitchFest, including NBC Universal, Warner Bros., UTA, The Gersh Agency, and many more.
Feature length screenplay winners will also receive an InkTip Script Listing to promote themselves and their scripts to InkTip's entire network of producers, managers, and agents. 
Companies who are InkTip members include: ABC, Anonymous Content, APA, CBS Films, HBO Films, and many more.
Finally, screenplay winners and finalists will receive a live reading of excerpts from their screenplays at the festival from professional New York City actors.
Announcements
Aug 7th
Official Selections
Rules
1. Big Apple Film Festival Screenplay Competition accepts feature length screenplays, short scripts and TV/web series pilot scripts. Feature length scripts must be a minimum of 60 pages and no longer than 150 pages. Short script submissions and TV/web series pilot scripts must under 60 pages.
2. Submitted screenplays can not have been optioned, purchased, or otherwise produced at the time of submission.

3. Writers can submit as many screenplays as they'd like to the competition, however each script requires a separate application and payment.

4.All entries must be submitted in English.

5.Submissions must include the title, author(s) and any relevant registration or copyright information.

6. Screenplays must be submitted in PDF or MS WORD.

7.All screenplays are considered complete once they are received by the Big Apple Film Festival. No revisions or updated copies will be accepted.

8. Submission fees are non-refundable.