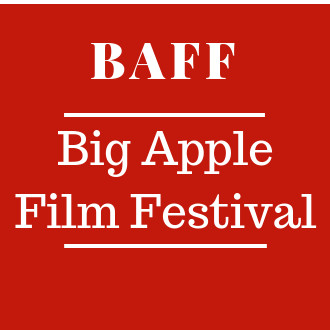 View Latest Season
Big Apple Film Festival
Big Apple Film Festival Screenplay Competition
Fall 2019
All entrants receive complimentary admission to the Big Apple Film Festival Networking Conferences
View Latest Season
About
 All entrants receive complimentary admission to the conferences.
Big Apple Film Festival takes place in the heart of the greatest city in the world. BAFF, named one of MovieMaker Magazine's top "25 Film Festivals Worth The Entry Fee," top "25 Coolest Film Festivals", CBS New York's "5 Best Events in New York" and Film Freeway's "Top 100 Best Reviewed Film Festivals", is dedicated to showcasing, highlighting, and promoting the highest quality films and writers from the New York City independent film community, as well as additional specially selected films from across the country and around the world. Our goal is to celebrate the great city of New York through the exhibition of innovative and purposeful filmmaking.
The festival offers a variety of film screenings and special New York City film premieres, a film and screenwriting conference, and a screenplay competition with live script readings of screenplay competition winner scripts.
ALUMNI FILMS include filmmakers and cast that are Academy Award and Golden Globe nominees, SAG Award winners and nominees, as well as films released by HBO, Showtime, IFC, Netflix, Amazon, Itunes and more...
PREVIOUS HONORARY GUESTS AND AWARD RECIPIENTS INCLUDE: 
Jesse Eisenberg(Academy Award, Golden Globe and SAG Award nominee) 
Cuba Gooding Jr.(Academy Award winner) 
Morgan Spurlock(Academy Award nominee, WGA Award winner) 
Alan Cumming(Tony Award and Independent Spirit Award winner) 
Jackie Martling (The Howard Stern Show) 
Jerry Stiller, Karen Allen, Olympia Dukakis(Academy Award and Golden Globe Award winner) 
Kevin Corrigan 
Katherine Waterston 
Ernie Hudson 
Mario Cantone 
Zoe Lister Jones 
Roger Sherman(Academy Award nominee and Emmy Award winner) 
Haley Joel Osment(Academy Award nominee), and more...
ABOUT OUR FILM AND SCREENWRITING CONFERENCE:

All submitters to the festival, whether their project is selected or not selected, will receive COMPLIMENTARY admission to the conferences.
The purpose of the conference is to provide an opportunity for filmmakers and screenwriters to receive valuable information from industry professionals through a series of panel discussions, as well as an opportunity for attendees to participate in Q and A's, networking sessions and nightly receptions.
CONFIRMED SPEAKERS INCLUDE:
Caroline Williams (screenwriter, Caroline Williams created the 2008 ABC series MissGuided starring Judy Greer and Chris Parnell and went on to write for The Office (WGA nomination), Modern Family (WGA award), Up All Night, BoJack Horseman and others including, most recently, Arrested Development and Maniac for Netflix, starring Jonah Hill, Emma Stone, Justin Theroux. She has also written on studio features and is currently setting up her feature directorial debut. Ms. Williams is married to fellow screenwriter and filmmaker Drew Goddard(The Martian, World War Z, Cloverfield, The Cabin in the Woods).
Jeffrey Roda (screenwriter/director, Jeff Roda has written screenplays for DreamWorks, Universal, Paramount Pictures, New Regency, TriStar, and television pilots for HBO, CBS, and Warner Bros. Additionally, he was a producer on the Sony Pictures Classics feature, Love Liza, starring Academy Award winning actors Philip Seymour Hoffman and Kathy Bates.

Marc Jacobson(Entertainment Attorney, handles production related agreements, advise regarding financing arrangements, analyze and negotiate distribution agreements, advise regarding domestic and international tax credits. Mr. Jacobson also represents talent in these negotiations. He has provided counsel on such projects as Find Me Guilty starring Vin Diesel, The Virtuoso starring Anthony Hopkins and American Trial: The Eric Garner Story.


Gabriella Ludlow (

CinePointe Advisors, 

has over 25 years of business affairs and project management experience in the entertainment industry. She has provided consulting services, as well as business affairs and production legal services on more than 150 feature and documentary film projects, including 

Motherless Brooklyn, Lady Bird, The Disaster Artist, The Meyerowitz Stories, The Grudge, etc.

) 



Nick Savva (Giant Pictures Distribution, credits include "Love, Antosha" Sundance Film Festival premiere, featuring Chris Pine, Kristen Stewart, and Jennifer Lawrence, "Mr. Roosevelt", SXSW Audience Award, "King of Peking", Tribeca Film Festival, "Turn it Around: The Story of East Bay Punk" featuring Iggy Pop, Billie Joe Armstrong, Miranda July, produced by Green Day)
Graham Fine (The Film Sales Company, sold over 200 films for domestic and international distribution and has raised financing for numerous fiction and documentary projects. Credits include "My Architect", Academy Award nominee for Best Feature Documentary, "E-Team", Sundance Film Festival Cinematography Award, "Waitress", written and directed by Adrienne Shelly, starring Kerri Russell, Sundance Film Festival premiere, Independent Spirit Award nominee)
Christina Raia (Writer/Director and the Founder of CongestedCat Productions, her work has received coverage in press outlets such as Indiewire and BuzzFeed. She works for Seed&Spark as the head of education, teaching and empowering creators to build their audience and crowdfund their work. She also runs IndieWorks, a monthly screening and community-building series. Christina has been a guest speaker at IFP, Tribeca Market, DOC NYC, ITVFest, Writers Guild of America, NYU and more...)
Lillian LaSalle (President of Sweet 180 Management, Peabody Award Winning Talent Mgmt and Production company, representing actors, writers and directors)
Sara Alexander (

Alexander Creatives

, represents artists for film, television, commercials, branded entertainment and new media. Sara represents directors, producers, writers, DPs, production designers, costume designers, editors. She also represents literary content including screenplays, books to film, and television series).
Art Skopinsky(

Monarch Films, 

domestic and international entertainment content sales agency that distributes Feature Films, single documentaries, TV Series and Webisodes on to TV, DVD, and Digital Platforms worldwide. Distribution partners include Netflix, Amazon, Hulu, ITunes, Google Play and more...)
Donal Lardner Ward (actor, writer, director, producer whose credits include Wes Anderson's The Royal Tenenbaums and Julie Delpy's Looking For Jimmy.  He was a staff writer for the HBO series How to Make it in America, produced by Mark Wahlberg and recently directed We Only Know So Much, co-written with Elizabeth Crane. The film stars Jeanne Tripplehorn, Damian Young, and Loudon Wainwright III, and had its NYC premiere at the Big Apple Film Festival.)


Past speakers include representatives from HBO, Academy Award winning Killer Films, Emmy Award winning Gigantic Productions, StoneStreet Studios, Endeavor Content, Academy Award nominated and Emmy Award winning filmmaker, Emmy Award winning screenwriter, Sundance, Tribeca, SXSW alumni and more…

Benefits
Winners in each of the Screenplay Competition categories will: 
Be announced and promoted through VARIETY, one of the industries leading trade publications, subscribed to by leading producers, production companies and studios, including Universal, Fox, Warner Brothers and more.
Screenplay competition winners will receive the opportunity to pitch their script to production companies, agents and other industry representatives through Virtual PitchFest, including NBC Universal, Warner Bros., UTA, The Gersh Agency, and many more.
Feature length screenplay winners will also receive an InkTip Script Listing to promote themselves and their scripts to InkTip's entire network of producers, managers, and agents. 
Companies who are InkTip members include: ABC, Anonymous Content, APA, CBS Films, HBO Films, and many more.
Screenplay winners will receive a live reading of excerpts from their screenplays at the festival from professional New York City actors.
Announcements
Nov 1st
Official Selections
Rules
1. Big Apple Film Festival Screenplay Competition accepts Feature Length Screenplays, Short Scripts, TV/Web Series Pilot Scripts. Additionally, the festival also includes specialty categories including Women Screenwriters, Horror Feature Screenplays, Horror Short Screenplays, Horror TV/Web Series Pilot Scripts and LGBT Screenplays.  Feature length scripts must be a minimum of 60 pages and no longer than 150 pages. Short script submissions and TV/web series pilot scripts must under 60 pages.
2. Submitted screenplays can not have been optioned, purchased, or otherwise produced at the time of submission.

3. Writers can submit as many screenplays as they'd like to the competition, however each script requires a separate application and payment.

4.All entries must be submitted in English.

5.Submissions must include the title, author(s) and any relevant registration or copyright information.

6. Screenplays must be submitted in PDF or MS WORD.

7.All screenplays are considered complete once they are received by the Big Apple Film Festival. No revisions or updated copies will be accepted.

8. Submission fees are non-refundable.