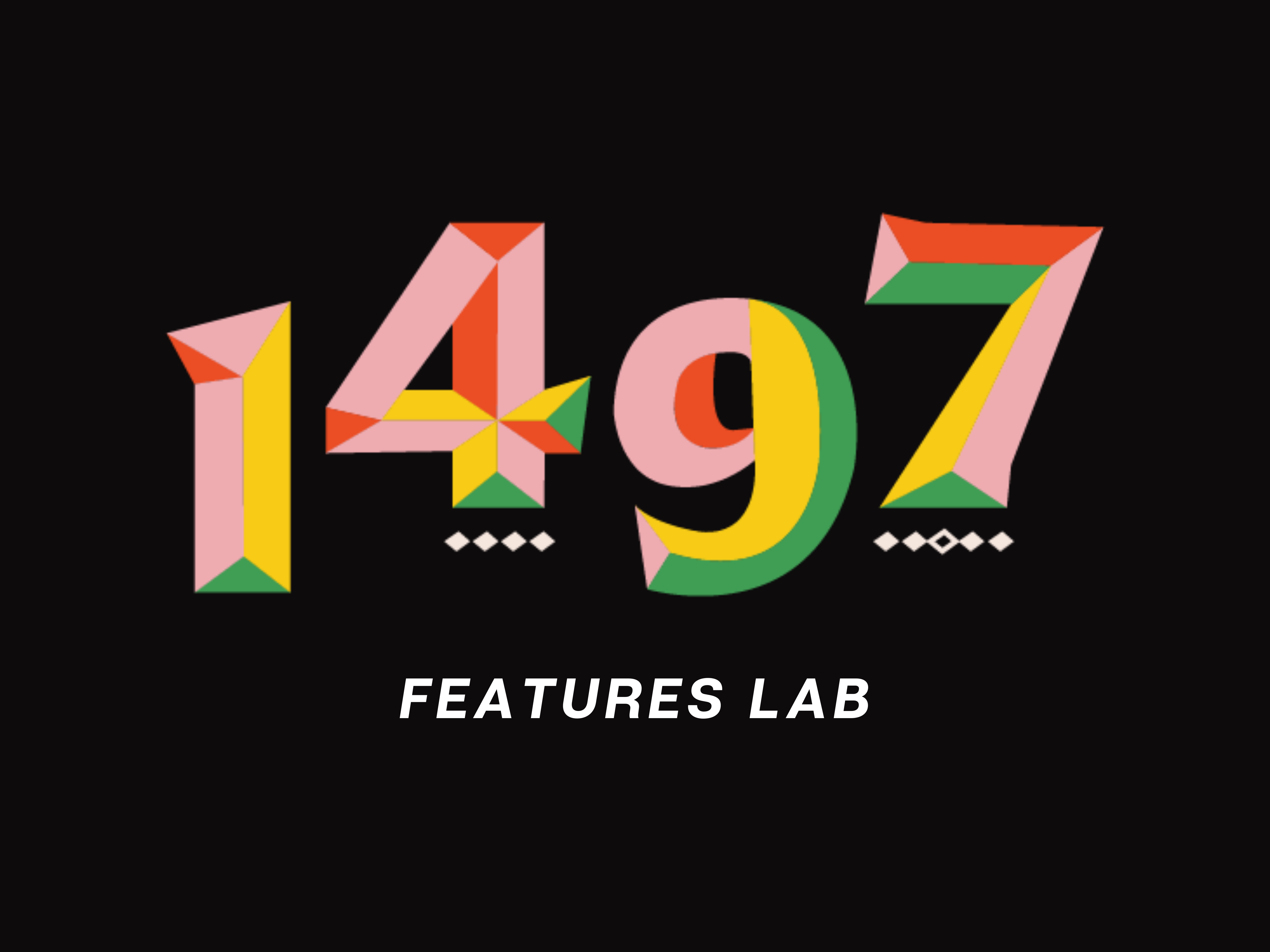 Enter Now
Final Deadline is 2 weeks from now
1497
1497 Features Lab
2022
The 1497 Features Lab is designed to elevate and develop screenplays by writers of South Asian descent, while providing career support.
Accepting Features
About
1497 is committed to supporting and uplifting talent of South Asian descent to challenge their historical exclusion from and underrepresentation in the American film and television industry. Our name signifies the last year that the area now known as South Asia (consisting of Afghanistan, Bangladesh, Bhutan, India, Maldives, Nepal, Pakistan, and Sri Lanka) was free from colonization.
The 1497 Features Lab is designed to elevate and develop screenplays by writers of South Asian descent, while providing career support. We want to empower writers in the South Asian diaspora to write whatever stories they feel compelled to tell, unbounded by genre, cultural content, geographic location, or any other stereotypical expectation. Then we want to challenge the gatekeepers in the American film and television industry to bring those stories to light.
We believe in a holistic approach to foster writers' creative and career journeys. As a result, the selected Mentees will move through a multi-tiered process in the 1497 Features Lab:
ELIGIBILITY
In order to be considered for the 2022 Lab, applicants must:

be of South Asian Descent
be 18 years of age or older at application time
reside in the United States by the time the Lab begins
have a completed narrative feature script by the time Finalists are announced
SELECTION PROCESS
Round 1: All submissions will be blinded, then the Artistic Statement, Script Synopsis, and Logline will be read and scored by a team of 20 Readers. Each submission will be read and scored at least 3 times.

Round 2: Top-scoring Semifinalists' submissions will be unblinded, then read and scored by 3 members of the 1497 team. The scoring will take into account the first 10 pages of the applicant's feature screenplay (excluding a title page).

Round 3: 10 Finalists' submissions will be reviewed (including the full draft of the applicant's feature screenplay) and scored by a Selection Committee, while the Finalists participate in interviews with members of the 1497 team. 

THREE Mentees will be selected for the 2022 Lab

, which will feature a new, hybrid format - part virtual and part in person in New York City in Spring 2022 (exact dates TBD).
SUBMISSION NOTES:
When checking out, Step 1 "Project Info" asks applicants to upload a "Project PDF." This file can be EITHER a full feature screenplay draft OR the first ten pages of a screenplay draft. As indicated above, 1497 will only consider the first ten pages of the screenplay if the applicant is named a Semifinalist. 

If named a Finalist, applicants will have an opportunity to send an updated completed feature screenplay draft to 1497 for consideration in Round 3.

All deadlines listed are in Pacific Time.



Prices & Deadlines
| | |
| --- | --- |
| Features Lab Submission | $25.00 |
Benefits
Script Development: In addition to peer to peer feedback from their fellow Mentees, every Mentee's script undergoes a rigorous development cycle with guidance from a Script Consultant who focuses on the emotional journey of the screenplay. Adrienne Weiss was the Script Consultant for the 2020 Lab.
Mentorship: 

Every Mentee is paired with a Mentor, a working professional in the industry whose experience and expertise align with the type of work the Mentee aims to do. Mentors help recognize gaps in the Mentees' script while offering advice and insight to launch or further the Mentees' careers. The 2020 Mentors were Gurinder Chadha, Aneesh Chaganty, and Maryam Keshavarz.
Connect with Industry: 

Towards the end of the Lab all  Mentees are introduced to  Industry Professionals, typically agents and managers, who  provide career roadmaps and specific industry insights, based on the Mentees' current and future ambitions. The 2020 Industry Advisors were Louise Keshaviah (Echo Lake), Ken Lee (Brillstein Partners), and Priya Satiani (Management 360).
Lab Costs: 

1497 will cover airfare, accommodations, and a per diem for meals for the in person portion of the Lab in New York City.
Rules
Screenplays entered must:

Be submitted in PDF form and must fit all standard screenplay format guidelines.

Be owned solely by the writer or writing team listed and have the appropriate intellectual property rights reserved and attached.

Be written in English.

Writer must be 18 years of age or older at the time of the winner's announcement. The Feature Lab will take place in New York City, New York and the writer(s) must be able to attend the in person portion of the lab. Any Visa, vaccination, and/or other legal travel requirements will be the sole responsibility of the Writer(s). 

1497 claims no ownership nor option on your work. All ownership and rights to the scripts submitted to this contest remain with the original rights holder(s).

Screenplays entered may be in any genre or combination of genres. All will be treated equally and read by an unbiased panel of readers and jury members. The scripts should adhere to the mission of 1497 which is to support and uplift talent of South Asian descent to challenge their historical exclusion in the American film and television industry.

Screenplays submitted must not have been previously sold or produced.

For a submission to be valid it must be accompanied with the appropriate payment based on the submission deadlines.

All deadlines are at 11:59pm PST on the date listed. Any deadline alteration or promotion of any kind does not make any entry valid for a refund of any kind.

1497 reserves the right to delay announcements for any reason. While we never anticipate any delays, such delays will not alter the standing of any screenplay entry and will not qualify an entry for a refund under any circumstance.

By entering a 1497 competition every entrant is agreeing to all 1497 Terms of Service and FAQ listed on the website, Coverfly application page, and additional terms agreed upon at checkout. If you disagree with any terms you may not submit to the contest.

By submitting to the contest you are releasing your script (but not it's underlying rights) to 1497 and holding harmless 1497 or any affiliates from any claims, expenses, and liabilities, including but not limited to invasion of privacy, defamation, copyright, libel, trademark infringement, slander, personal property infringement, etc.

All prizes provided by sponsors or mentors are subject to said sponsor or mentor providing the prize and subject to their schedules. 1497 will do everything in its power to collect the prize packages promised, but due to the ongoing pandemic and any other scheduling issues the packages may be subject to delays or changes in scheduling.

Except where prohibited by law, participation in the contest constitutes each entrant's consent to 1497 and its agents' and contest sponsor's use of entrants' names, likenesses, photographs, and/or personal information for promotional purposes in any media, worldwide, without further payment or consideration. All uses of entrants' information are in accordance with our Privacy Policy.

 RIGHTS AND OBLIGATIONS. 

(a) I agree that you have no obligations to me except as expressly set forth in this Agreement, and that no other obligations, implied or expressed, exist or shall exist or shall be deemed to exist. I agree that even if I submit the Material, you are not obligated to provide feedback to me or any other person or entity regarding the Material, or to recommend me to anyone. 

(f) You shall have the right, in perpetuity, exercisable by third parties, to use my name and any nickname of mine, and my voice, likeness, and biographical information for promotional or advertising purposes in connection with the 1497 Feature's Lab, the Material, and the exercise of any and all rights of yours, including but not limited to promotion or advertising of the 1497 Features Lab, and any other of your programs or initiatives and/or general corporate publicity, without additional compensation. 

BY ENTERING THE CONTEST YOU ACKNOWLEDGE THAT YOU HAVE READ AND AGREE TO THESE CONDITIONS. You agree to release and hold harmless 1497, its subsidiary, parent and affiliated companies, Prize contributors, judges, screenplay readers, Sponsors, Mentors, and any other organizations responsible for administering, advertising or promoting the Contest, and every one of their respective members, directors, employees, agents and representatives (collectively, the "Released Parties") past and present from and against any and all claims, expenses, and liability, including but not limited to damages and negligence to property and persons, including but not limited to invasion of privacy, defamation, slander, libel, violation of right of publicity, copyright, infringement of trademark or other intellectual property rights relating to a participant's Entry, participation in the Contest and/or acceptance or use or misuse of Prize; provided however, that such release will not apply to any commercial exploitation of the script by a Released Party in violation of your rights under applicable copyright law; and (c) indemnify, defend and hold harmless the 1497.org and its Sponsor, agents and employees from and against any and all claims, expenses, and liabilities (including reasonable attorney's fees) relating to an entrant's participation in the Contest and/or entrant's use or misuse of Prize. Employees of 1497 and their immediate families are ineligible to participate in this contest. Any such submission will be immediately disqualified. ENTRY TO THIS CONTEST IS VOID WHERE PROHIBITED or restricted by any Federal, State or Local law. Voided entries will be refunded. Recipients' eligibility will be verified before the grant is awarded and the winner may be required to sign an affidavit of eligibility.



Please visit our
website
for further details of the 2022 Features Lab - we look forward to reading your application!